‹ back
Where did the flu go?
"Every season, a large part of Sweden's population falls ill with the flu. Influenza is a respiratory infection caused by a virus and common symptoms are high fever, headache, muscle aches, sore throat, and cough.
Influenza virus afflicts Sweden every year and is most common during the winter months. The vast majority who get the flu do not need to seek care because the ailments usually go away on their own."
https://www.socialstyrelsen.se/globalassets/sharepoint-dokument/artikelkatalog/statistik/2020-4-6737.pdf
In this year's report, the Swedish Public Health Agency writes: "During the season, a patient with laboratory-verified influenza has been reported treated in intensive care. The patient had influenza B/Victoria and belonged to a risk group. Since influenza has not spread in Sweden, there is no influenza-related effect on mortality."
Think about it! Influenza has not spread in Sweden? We will write a little more about this later.
Here is a curve from the Swedish Public Health Agency: Blue is thus 2017-18, yellow 2018-19. Purple is 2019 - 20 and green, which is hardly visible, is 2020-21.
Number of laboratory-verified flu cases (all types) per week, this season and previous seasons.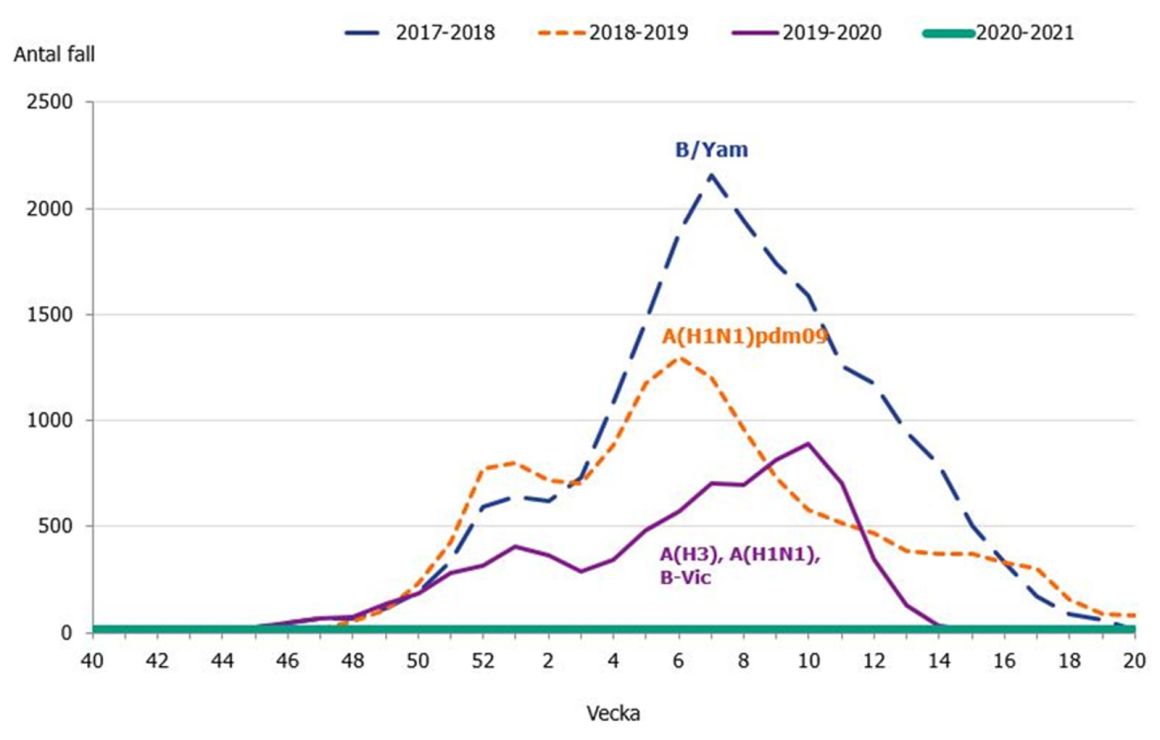 Read the season summary for the season 2020-2021 - updated 23 July 2021 (PDF, 1,4 MB)