‹ back
Highest incidence despite vaccination record
Status: 07.01.2022 1:37 p.m.
Bremen has Germany's highest vaccination rate - and now suddenly also Germany's highest corona incidence. How can that be?
By Kristian Klooss and Fabian Metzner, Radio Bremen
"The city of Bremen has had the highest incidence in Germany for days - according to the Robert Koch Institute (RKI) it is currently almost 800. And there is no end in sight. Bremen's health department continues to expect very high numbers of new infections. The small federal state has long been the front runner nationwide when it comes to vaccination rates. How does that fit together?"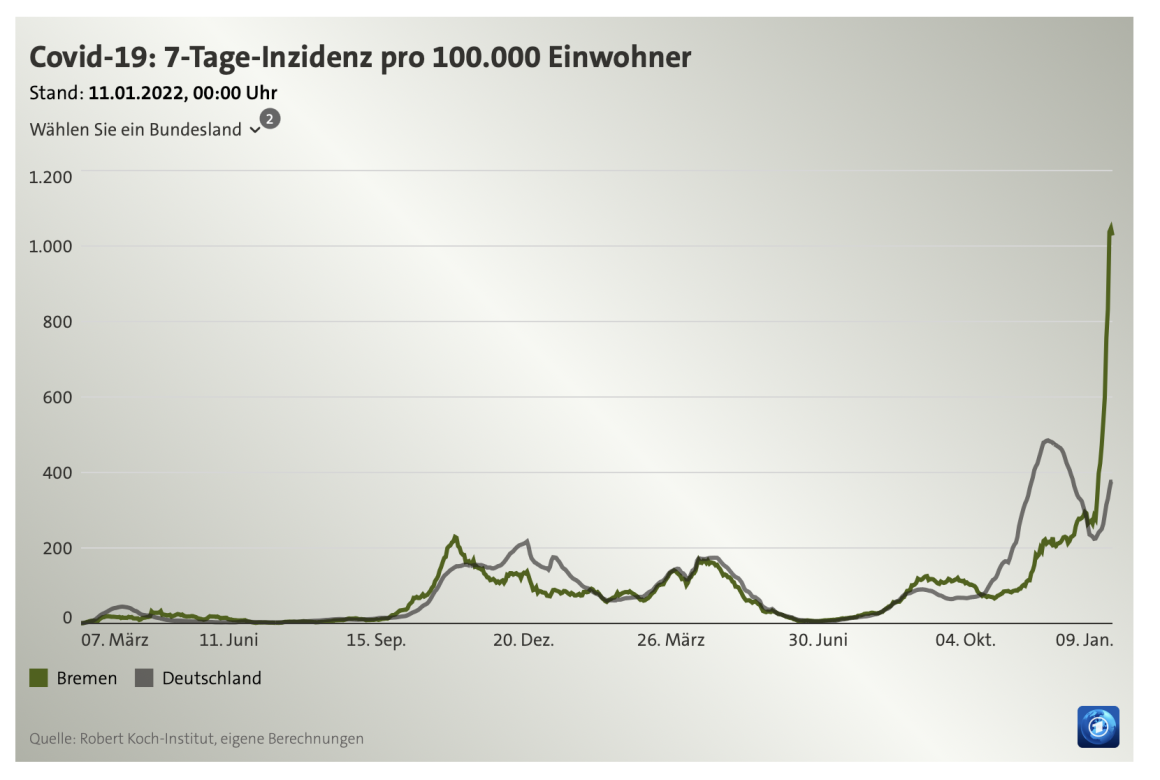 Höchste Inzidenz trotz Impfrekord
Stand: 07.01.2022 13:37 Uhr
Bremen hat Deutschlands höchste Impfquote - und jetzt plötzlich auch Deutschlands höchste Corona-Inzidenz. Wie kann das sein?
Von Kristian Klooß und Fabian Metzner, Radio Bremen
Die Stadt Bremen weist seit Tagen die höchste Inzidenz in Deutschland auf - laut Robert Koch-Institut (RKI) liegt sie derzeit bei knapp 800. Und ein Ende ist nicht in Sicht. Bremens Gesundheitsressort rechnet weiter mit sehr hohen Neuinfektionszahlen. Dabei ist das kleine Bundesland seit Langem auch bundesweit Spitzenreiter bei der Impfquote. Wie passt das zusammen? https://www.tagesschau.de/inland/gesellschaft/omikron-bremen-101.html